I'm taking the pledge.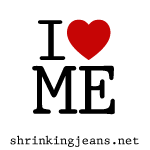 The Pledge to Love Myself.
I pledge allegiance, TO MYSELF.
Today I will proclaim it
out loud,
TALL AND PROUD
I LOVE MYSELF.
From this day forward,
I promise to be nice.
TO myself and ABOUT myself.
I will accept my quirks and I will love my faults.
I will love my shape, whatever it is
My bones, my muscles, my hair and my face.
My body, all of it, inside and out.
Because that is what makes me, ME.
And there is only one of me.
I will finally allow myself
to see what others see.
My kindness, my spirit, my love.
And starting today, I will share some of it,
with ME.
Because I deserve it.
I will fight for myself, because I'm important.
And I deserve to be everything I am capable of in my life.
I deserve to find my greatness and live my life fully and completely.
With no regrets.
There is so much I want to do in my life,
but first, it begins with "me."
I LOVE MYSELF.
Today, tomorrow, and every day after that.
I LOVE MYSELF, DAMMIT!
And no one can stop me.
This is part of :