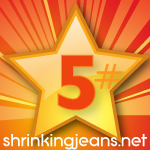 4 pounds this week, woo hoo. I am so pumped.
The first time I joined WW was in 2000. Like a few out there, I have joined WW a gazillion times and I have failed a gazillion times because mentally I just wasn't there.
This past decade was a rough one, and I made it even rougher because I self indulged in my pity party. Part of me is still afraid that I will sabotage myself in someway but I am loving the New
Points Plus
program from WW and I just have to keep fait that I will stay positive.