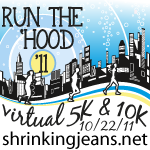 I'm just loving the Sisterhood, they are bringing some really cool things. This time around they are having a
virtual walk/run.
I can't register until the begining of the month, and I guess that's a good thing since I really don't know what category I want to sign up for.
5K Walk - I'm currently walking a 5k every other day, it takes me about an hour to complete but should I stay in my comfort zone or broaden my horizon?
5K Run - This one scares me. Only because I've started the
c25k
training in the past and I never got past week 2 - I have a knee issue and shin issues. I really, truly want to be a runner but should I push myself when I really don't know what my knee issues are?
10K Walk - I'm leaning towards this one as it would be pushing myself out of my comfort zone, but I am a bit competitive and I want to win one of the prizes and I don't think I would be able to do that in this category.
10K Run - this isn't even an option, uh uh.